2021 is an anniversary year for Albany Rise Primary School!
We are celebrating 50 years of quality education at the Albany Drive site.
Come one, come all and help us remember in style.
There will be many opportunities throughout 2021 to come together and celebrate as a community and share our wonderful memories so….
SAVE THE DATE: October 22, 2021
This date may will be our main anniversary celebration but keep an eye on the school newsletter and social media for other events.
Parents Association Reflection – 50th Anniversary
I have been a part of the ARPS Parents Association for 5 years, having joined when my daughter started in 2016.
I have been the convenor of the association for the past 3 years. We have been involved in many aspects of school life, including Fresh Fruit Friday & Icy Pole sales, as well as volunteering at all the school based events, including the Fun Fiesta, School Production, Walkathon and Footy Colours Day
each September, raising funds for the Footy Colours Foundation.
We are a small committee group which plans all the activities, and rely on our school community to jump in and help at the events, which so many of them do!! We can't thank them enough!!
One of our main objectives of the PA is Fundraising, and we have been very successful over the past couple of years raising much needed funds for the school.
In our last 2 years we have raised just under $50,000 combined, which is an awesome effort by our community.
Personally, I love being part of the PA. We have many standard events that happen each year, and then we come up with new ideas each year to keep it fun for the students. One major event we added was the Colour Explosion, which, I'm sure everyone would agree is so much fun, and is one event on
the calendar, that the students love the most!! I don't think we could remove this event, even if we wanted to!! Although Mrs. Drew was hesitant to begin with, she has now become as excited as us all for the day!!
Unfortunately, this year COVID has hit the Parents Association hard, forcing us to cancel all events for this year. But we are determined to come back strong in 2021, and can't wait to be a part of the 50th Anniversary celebrations for Albany Rise Primary School!
– Melinda Towers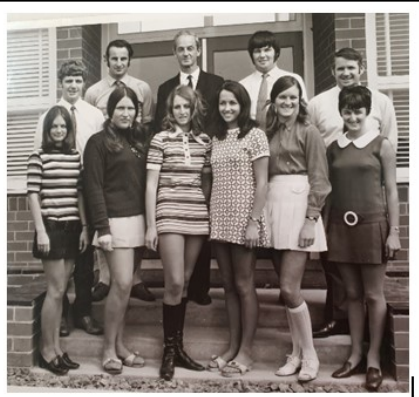 Albany Rise Primary School is running a logo competition as part of the 50th anniversary celebrations so get creative and join in!
 Design a commemorative 50th anniversary logo : this may consist of a graphic, or a slogan or both
 Open to past and present students/parents/staff
 The competition will run for 3 weeks: from 22/10/2020 – 12/11/2020
 Finalists will be decided by the 50th anniversary committee and the Junior School Councillors
 The three finalists will be published in the school newsletter and on social media and the design with the most votes will be chosen
 The logo must:
– Be detailed enough to enlarge to A4 size and reduce to the size of a 20cent piece
– Include the School Name
– All entries are to be submitted online to this email address:
albany.rise.ps@education.vic.gov.au
– Subject: 50th anniversary Logo Competition 2020
What an incredible milestone for our school to be heading towards in 2021; 50 years old! I am incredibly excited about the opportunities this celebration presents for our school. Time to reflect and acknowledge the impact of the many educators, administrators and locals who worked to build such a fantastic school community over so many years.
As many of you would know, our school has provided a primary education for a relatively large number of our current parents, staff and some grandparents. Of course, for many of our 'more experienced' ex-students, their memories may be of 'Northvale Primary School', the former name of Albany Rise Primary School from back in the early 1990s. The school has provided rich memories for families who established their lives in Mulgrave over 50 years ago, some of whom are still neighbours to the school and who can recall a time when the school was just an empty paddock amongst newly built houses!
Over the coming weeks and months leading to our 'Big 50th Celebration' in October 2021, I encourage all our families, old and new, to engage with the articles
being shared in the newsletter each week, to share the stories that have created our schools' history, and 'jump on board' this opportunity to continue to create a positive history for our school community.
There will be upcoming articles and 'snippets' from the past, including some aerial photos showing the development of the school site over time. We are also encouraging past and current students to share their own stories, and all community members can take part in the logo competition currently underway.
I am so looking forward to celebrating our 50th year with all our ARPS families something very special as we head towards 2021!
Albany Drive Eye in the Sky
The Albany Rise site started life as bushland. In 1963, there was nothing to see except grass and trees. However, by 1972, Northvale Primary
School had been built. Today that original building is the Years 2-6 corridor. The school office was part of the original building. The asphalt play areas are still at the school today.